Installing and Replacing Kitchen Plumbing Fixtures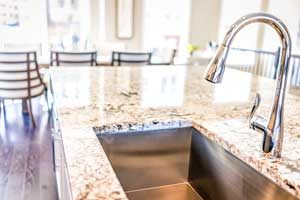 Kitchen plumbing fixtures need to be replaced in a home just like bathroom plumbing fixtures. Depending on the age and condition of your house, it's possible they haven't been updated in decades! There have been a lot of plumbing advancements in the last few decades, and it may be time to apply the newest upgrades in kitchen plumbing fixtures. Doesn't your home and kitchen deserve the best?
When to Replace Your Kitchen Plumbing Fixtures
Whether you're replacing the entire range of kitchen plumbing fixtures or just one fixture, it's important to know when they should be replaced. One of the most used sinks in your home, the kitchen sink sees a lot of action. Whether you're washing dishes, filling a glass with water, or washing your hands, your kitchen fixtures needs to be in tip-top shape.
Signs You Need a Kitchen Sink Replacement
Quick upgrade: Nothing shines brighter in a kitchen than a new sink! It's an easy way to enhance the look of your kitchen without redoing the entire space.
Gaps: Caulk doesn't last forever! If you have gaps between your countertop and the sink, water will get in those cracks, soaking into the wood underneath and causing much more damage.
Rust: If your sink is metal, rust will happen unless the sink is properly cared for!
Signs You Need a Kitchen Faucet Replacement
Bad flow: Over time, sediment can get stuck within the faucet itself, causing poor water flow or random sprays. Faucets are difficult to fully clean.
Rust: Maybe you've just bought a fixer-upper, and the last owners let rust take over the kitchen faucet and sink. Replacing these fixtures is the way to go!
Leaks: If your faucet is spraying or leaking at the base, it's time to look at replacing the kitchen fixture.
Professional Kitchen Faucet and Sink Installation
Unless you have extensive plumbing knowledge and experience, replacing the kitchen sink or kitchen faucet by yourself is not advisable. Depending on the countertop material, sealant, and pipe material, you could actually cause a lot of damage with a kitchen sink installation! Kitchen faucet installation can be difficult as well, especially if you haven't matched the sink and the faucet together.
By calling All County Plumbing, you're ensuring your kitchen plumbing fixtures can be replaced easily, quickly, and without DIY damage. If you're looking for a quick way to update or improve your kitchen, call us today!